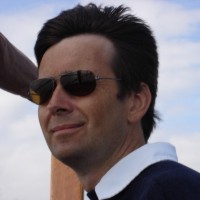 Pratt Naval Architecture Director James Pratt BEng(Hons) CEng MRINA MYDSA studied Naval Architecture and Ocean Engineering at University College London. His final year project "Hydrofoils for a Class Racing DInghy" was a prize winner at the BICC Design Council Engineering Awards.
James worked initially with the UK's largest private Marine Consultant firm, BMT based at their ship model testing facility. Projects undertaken involved model testing and sea trials on full size vessels, including warships, SWATHs, fast ferries, lifeboats, pilot and patrol boats, together with 
yachts and smaller craft and more unusual  projects. He was also involved in more unusual projects such as investigation of stability of helicopters when ditching at sea. Wash, hullform optimisation and stability were regular areas of his work.
James latterly served over sixteen years as Associate Naval Architect and Surveyor at a small independent practice, where many varied projects included design of small commercial vessels and yachts and surveying vessels up to 110m.  James has advised clients on detailed technical matters, contracts and specifications and has overseen the newbuilding of large yachts on behalf of owners. He has attended court as an Expert.