FROM OUR ARCHIVES 5th January 2021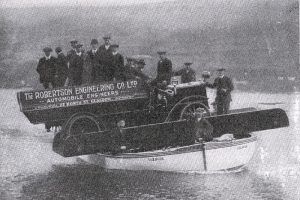 Adequate stability is an essential safety requirement for pleasure and commercial vessels.  We have the knowledge and sensitive equipment needed to safely assess stability of all kinds of floating vessels to modern standards without resorting to the somewhat risky approach adopted in this 1912 photograph!
(photographer unknown)
"COMMUNITY SPIRIT" – OFFICIAL LAUNCH BY HRH THE PRINCESS ROYAL 14th October 2020
Director, James Pratt was privileged to be invited to meet HRH The Princess Royal at the Official launch of "Community Spirit" hosted by her owners, Crusader Community Boating.  Pratt Naval Architecture were tasked by the vessel's builders, Colecraft Boats, to design the vessel to meet the particular requirements of the charity. The design incorporates a hybrid propulsion system making maximum use of the available shore power system and onboard solar panels, with built in features to enable future upgrading.   Flexibility of operation is ensured by passenger lifts on both port and starboard sides.
37ft SLOOP TURNOVER 17th September 2020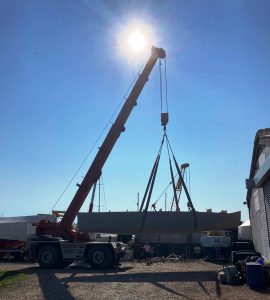 An exciting day as a milestone is reached and the inverted hull to our design was extracted from the workshop and turned upright displaying her lines to advantage in this great image courtesy of  Larkmans Boatyard.