"Our Lizzie" 1919
Pratt Naval Architecture were delighted to be closely involved on behalf of her owner with the extensive rebuilding of this historic vessel and Dunkirk "Little Ship" undertaken by Oulton Marine (previously IBTC Marine Services), the commercial  arm of the International Boatbuilding Training College based at Lowestoft.
Design drawings and a detailed specification were commissioned by her new owner to embody a very specific vision for the vessel's completely new interior and deck arrangement.
No existing drawings being available, Pratt Naval Architecture laser-scanned both the interior and exterior as a basis to prepare the drawings and technical information required.  The scanner used was the fastest available in the UK at the time.
In addition Pratt Naval Architecture carried out a detailed structural survey and provided recommendations for the work required to put the vessel into sound condition for the future.
As well as drawings for the new arrangements, tanks and other areas, an inclining experiment was carried out and weight change estimates and stability Information were prepared.
Pratt Naval Architecture also attended during the project to examine progress and provide design and survey support during the course of the work.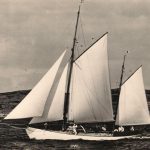 James Pratt's involvement with IBTC dates back to the restoration of the 1909 Fred Shepherd Ketch "Owl" in 1994.